Integration into your website is simple. It only takes a few steps. Once a new Zooza account is created, there is nothing to prevent individual forms from being deployed to your website. What's great about Zooza's forms is that your customer will never leave your site. Zooza will become a part of yours and will look like it was created for your website.
At the same time, know that you can also edit each form graphically via the so-called. CSS styles (your programmer will know), so you will be able to customize the forms according to your graphic ideas.
To deploy forms on your site, you need to have the Zooza plugin downloaded.
Installing the Zooza plugin
The installation procedure is described on the extended web administration interface – WordPress.
in the Plugin section click on the option Add new
Search for the keyword Zooza and then click the Activate button next to the plugin you searched for
In the Settings tab, click Zooza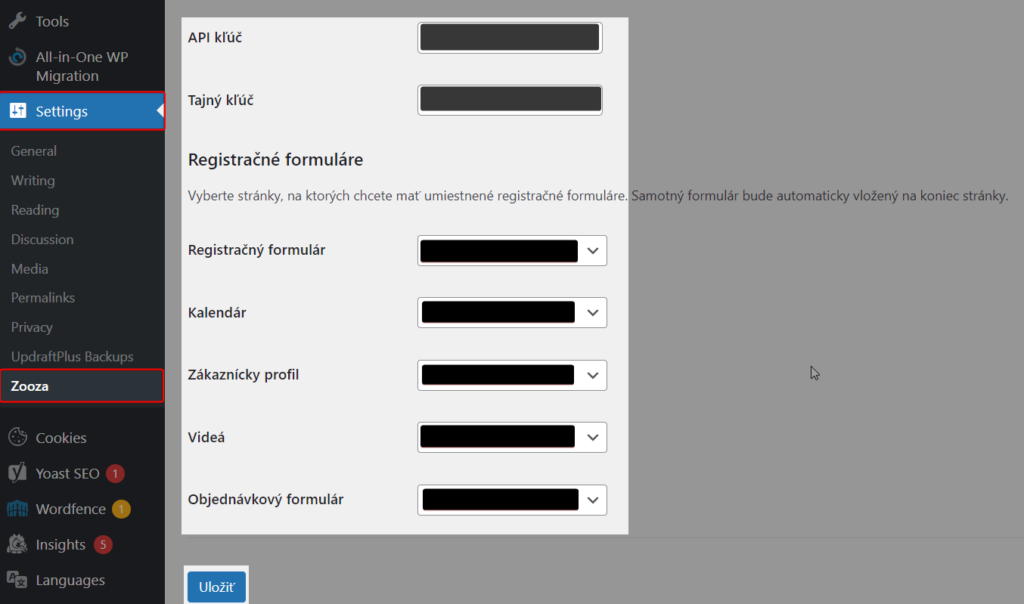 Copy API key and secret key from your Zooza acount
Click on Settings and Registration forms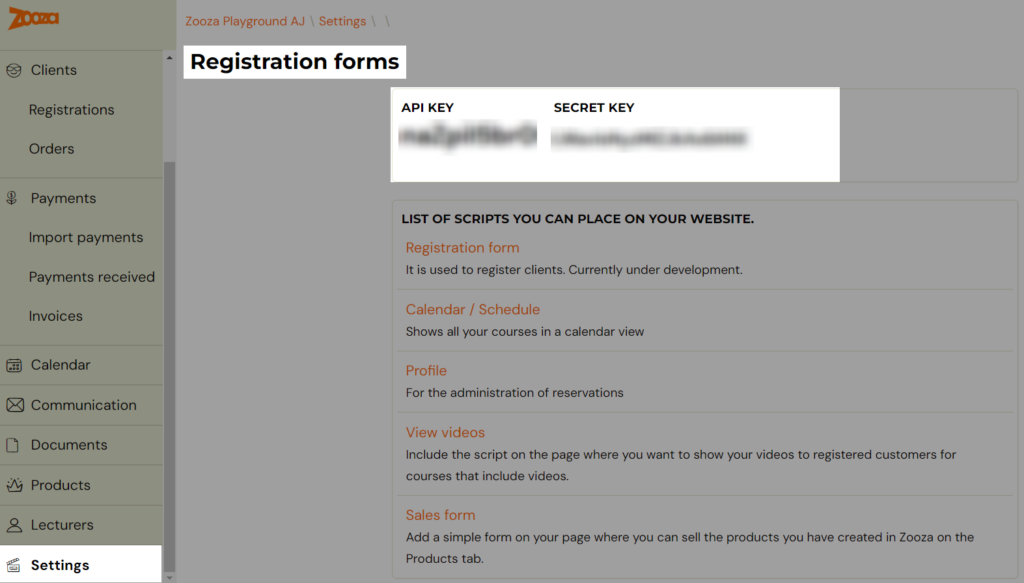 Customize the display of forms on your website
In Zooza app you can customize the display of forms on your website. Make your seetings in the app.
Click on Settings, then choose Registration forms and then choose the form you would like to customize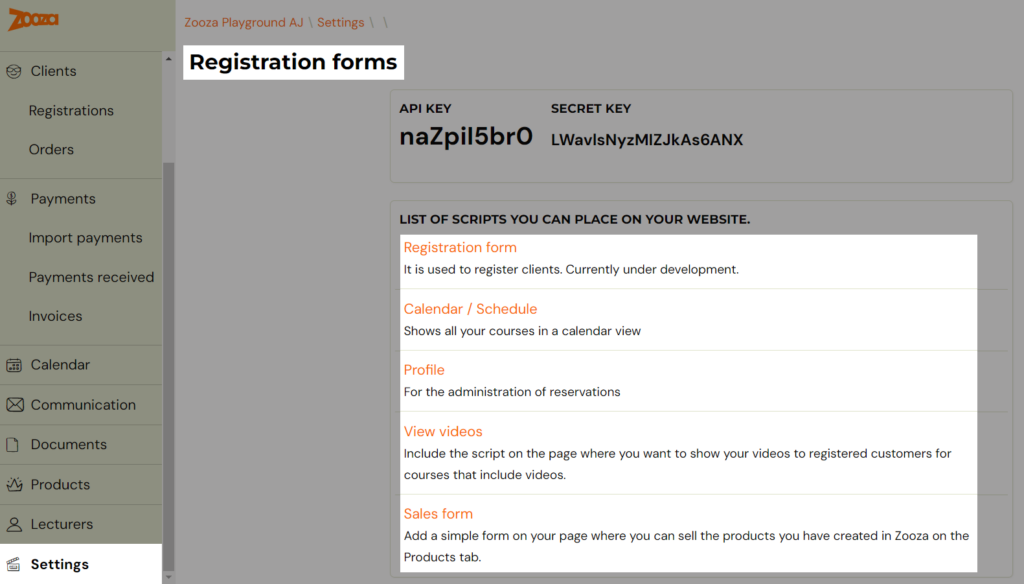 Registration form – registration for courses
It will allow you to view a registration form with a list of courses.
Within the course offer you can view the exact number of available places or just an indication of whether something is still available or not.
It is also possible to decide whether to display a field for inserting discount coupons.
Alternatively, set the visitor to scroll / move to the form directly on the page when visiting a sub-page. This helps in navigation if the subpage is too long or complicated.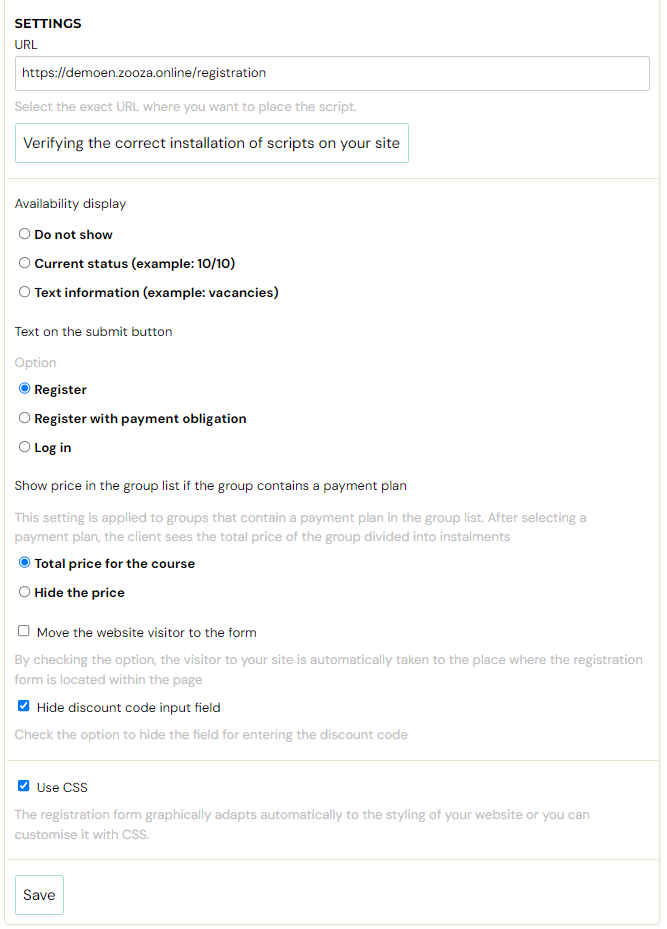 Client profile
Allows you to create a customer profile on your website. The customer or client will be able to log into their profile and see a list of products or services they have ordered from you. You will be able to check your payment status or pay for a service or product, take attendance and any make-up classes, or watch assigned or purchased videos or other content in secure mode. You also have setting options in this form. For more information on setting up the collection of logout reasons, see the separate manual.
Calendar / Timetable
Allows you to display course and meeting offerings in a clear calendar on your website. The calendar will always be up-to-date according to the settings in Zooza. Visitors will be able to choose from the current offer and register for a course or meeting.
Other calendar settings
You can set the calendar display as desired. For example, whether you want to show the number of available places or just that it is still possible to apply. It is possible to display the tutor, location, time or not if you are not interested. If you have multiple sites, or multiple different exercises, you can turn on filters and such. It's best to go through your settings and try to turn it on/off and see what's displayed on the page until you're comfortable with it. Save the change and refresh the calendar subpage (F5 on Windows devices).
The settings for displaying dates in the calendar are described separately in the manual.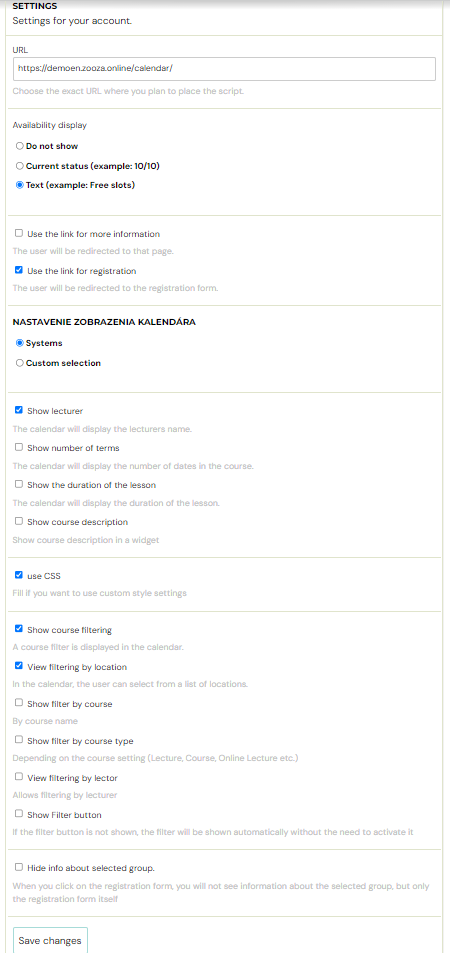 Viewing videos
Zooza is also unique in that it can mediate the video in security mode so that no one will have access to the video except by making it available for registration (either by assignment or by sale). To play a video, you need to create a subpage where the videos will be displayed.
Product order / sales form
It will allow you to collect orders for your digital products or other products. In the case of digital products, they will be directly accessible in the customer's profile after payment.
TIP: Think about the navigation on your site, it is best to place some of the subpages you have created directly in the menu so that visitors can navigate as quickly as possible. We also recommend having your profile highlighted in the menu and it can be called anything you like – attendance, my profile, client profile… For example like this:
or like this:
or like this: