Within the app, you can give your clients discounts on courses. These discounts can be set up when creating a course for everyone, or for registrations that have already been created. For instructions on how to enter a discount when creating a course, see here
How to give a discount to an already registered customer?
There are three ways to give a discount to the created registrations. It's up to you which one best meets your needs.
Credits
With each registration you can enter a discount or a free term via the so-called. Credits. With this type of discount, it is important to note that the discount entered will only apply to the client's next registration, not the current one.
Follow the instructions to enter the credit How to work with credits?
Change of payment
You can use this type of discount if you want the discount to apply to a client's current registration.
For more information on how to work with client payments, see HERE
For this setting, please follow these steps:
In the Registrations tab, search for the registration you want to discount.
Under Payments, click Show the Payments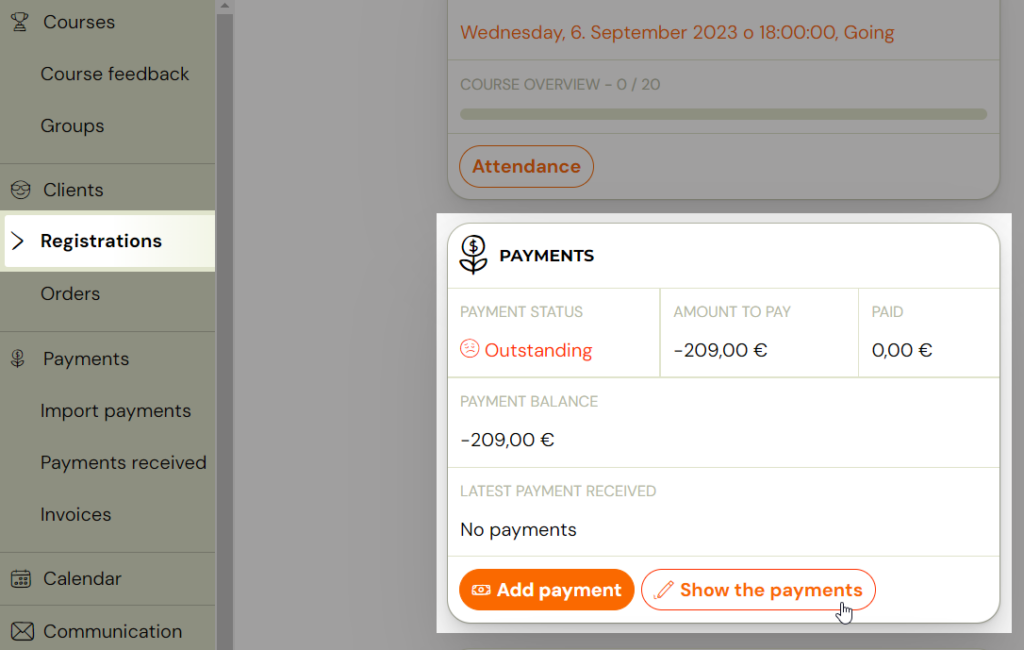 Click on the Edit button in the discount section to enter the final value of the discount, i.e. the one you want to give, not the difference from the current payment
Payment type
Another way to apply a discount to an existing registration is through payment types. Thus, by creating a new payment type, such as one-time or monthly discount, and then set it up at registration.
Note: You can only apply this procedure for courses that have a registration type of Continuous – per term. For this setting, please follow these steps:
Create a new payment type (if not already created) according to your needs. The procedure for creating payment templates can be found in HERE
Enter the payment type you created in the Course and Group where the registration is located. You can make this adjustment via the course properties and group properties in the Payment Frequency section by clicking Active.


Then select the registration you want to edit.
Under Payments , click View Payments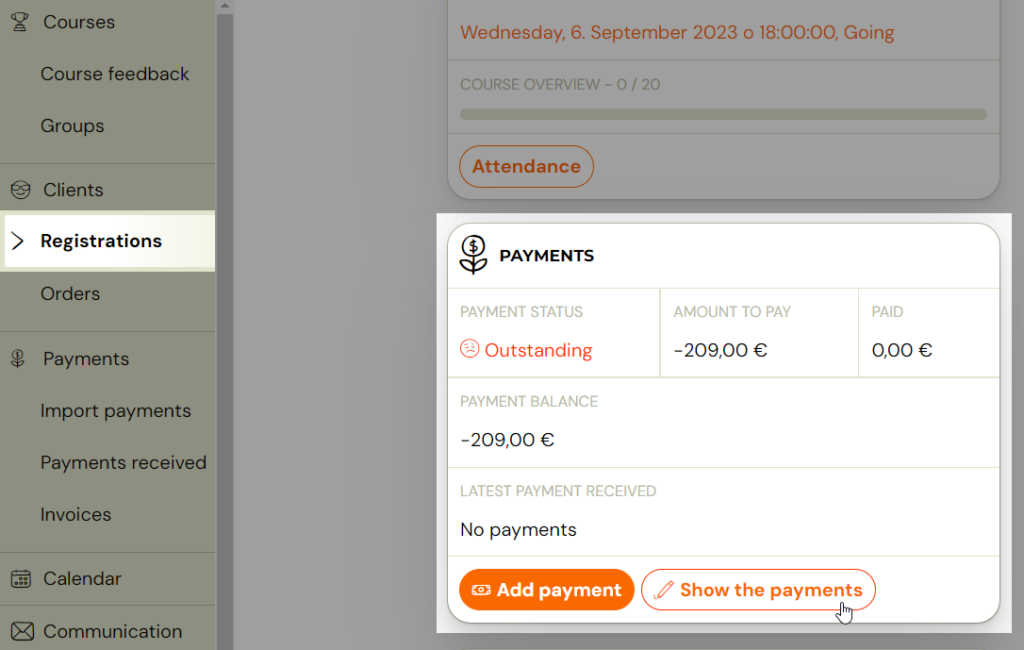 In the Installment Plan section, click Create (if no installment plan has been set up on the registration) or Change (if an installment plan has already been set up on the registration).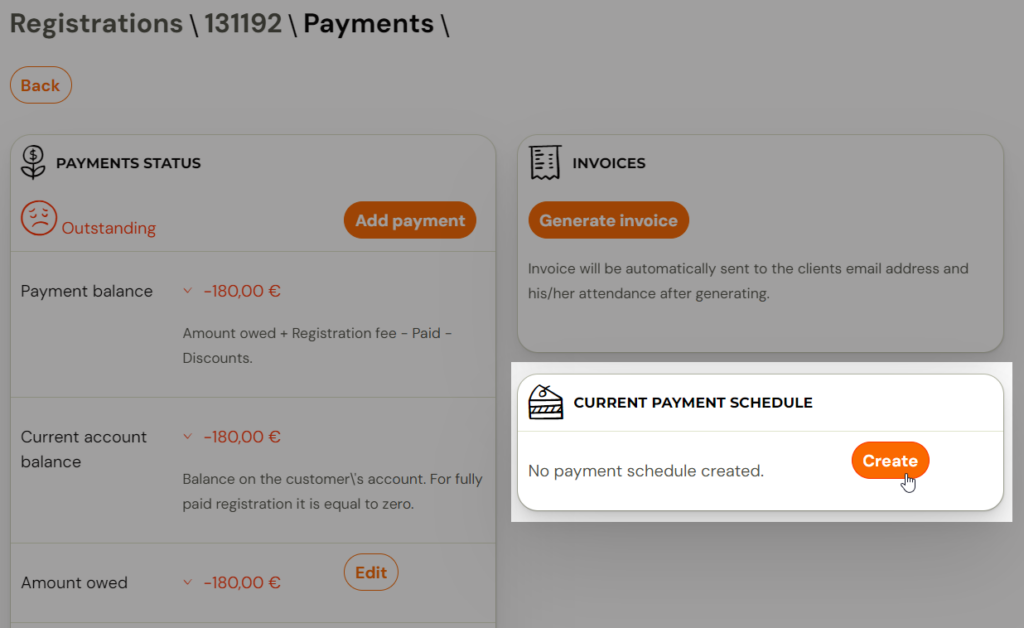 Choose the amount and the date of the first installment. Click Continue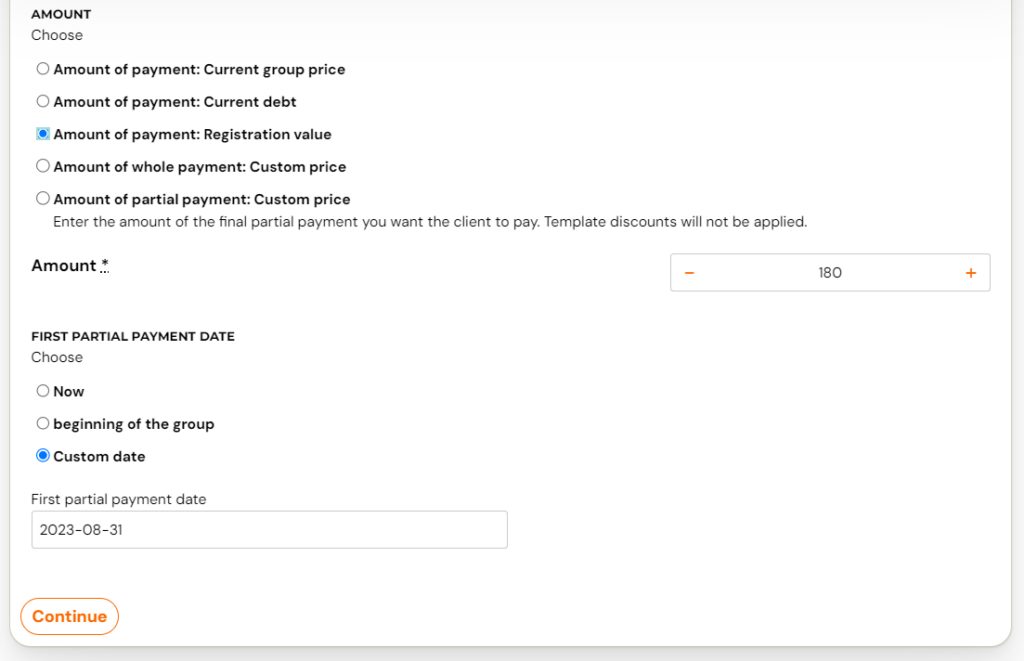 Then click the Choose button next to the template you want to apply and then click Continue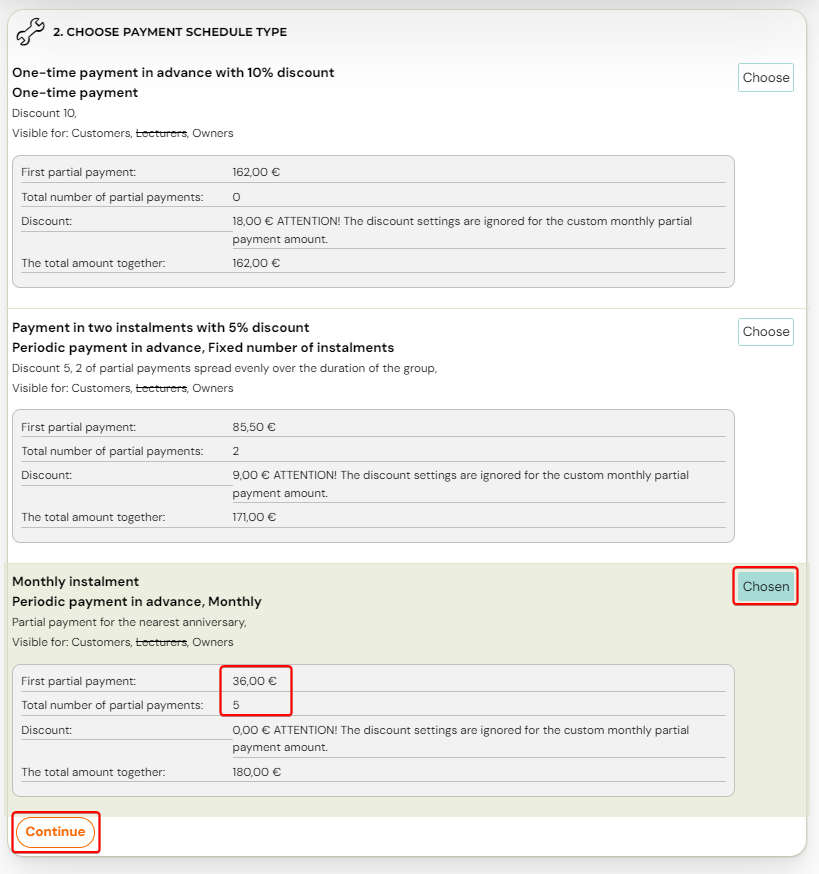 Select which debt the discount is to be applied to, the date the discount is to be applied and then click Continue
In the next step, check your settings and click Continue. If you want to apply the installment plan to the registration, confirm your selection by clicking Finish.