Zooza does the bulk of the work for you, just by sending the information to the client automatically and by itself. Automatic communication includes:
Invitation to confirm registration
Confirmation of registration (for course, one-off, open, lecture, but also separate templates for late registration, waiting list registration, group – Interested)
Order confirmation (product purchase)
Automatic term reminder
Confirmation of opting out from the term
Confirmation of payment
You have the option to customize some of these automated reports to suit your organization's needs. Address your clients by ticking or exclaiming, as you are used to. Rewrite the words in the text so that they describe what you are doing (for example, letting clients know that you are looking forward to seeing them at practice, or in class, or in a lesson). Add or remove information you want to send to the client. We have pre-prepared templates that serve as inspiration and you have the opportunity to customize them to fit your organization. Where and how?
Message templates
Message templates can be found under Communication – Message templates
When you open this window, you will see a list of templates that you have the option to edit. As is customary in Zooza, what's orange is clickable. Click on the orange Template sign for the specific template you want to view and edit.
It will open up like an email browser, with the subject line and the text of the email prepared in advance. For example, the very first email the client receives after completing and submitting the registration form is the Registration Confirmation Prompt and it looks like this: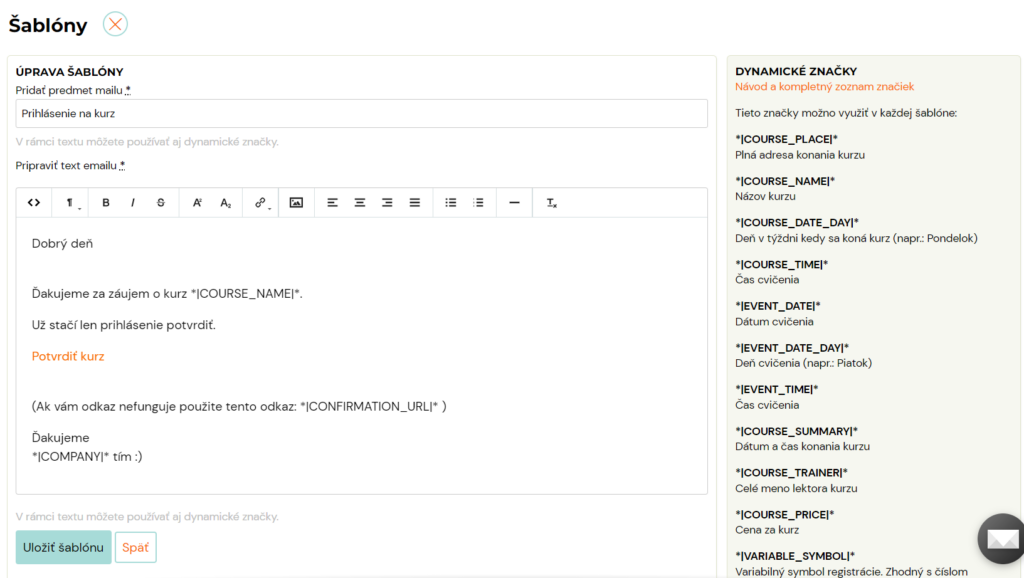 You can edit this template according to your needs, just as you are used to editing an email when you write it, for example, via Gmail. You have the option to overwrite parts of the text, highlight in bold, make the font larger or smaller, and collapse the text to the left, centre or right. Add both link and image. Don't forget to save your changes.
Dynamic tags
In order to make such communication automatic and at the same time still addressable, i.e. with specific information about the course, time and location of the group your client has signed up for, we use so-called dynamic tags. These help to pull the right information into the email.
You can also use them and if you want to add some information to one of the templates, you can copy the dynamic tag (CTRL-C) and then paste it into the email (CTRL-V). Copy the dynamic marker in its entirety, including the slashes and asterisks on both sides. A menu of dynamic tags is always at your fingertips on the right-hand side of the screen.
More dynamic brands can be found here
TIP: View all templates. Customize them according to your needs and be creative. The template can also look like this: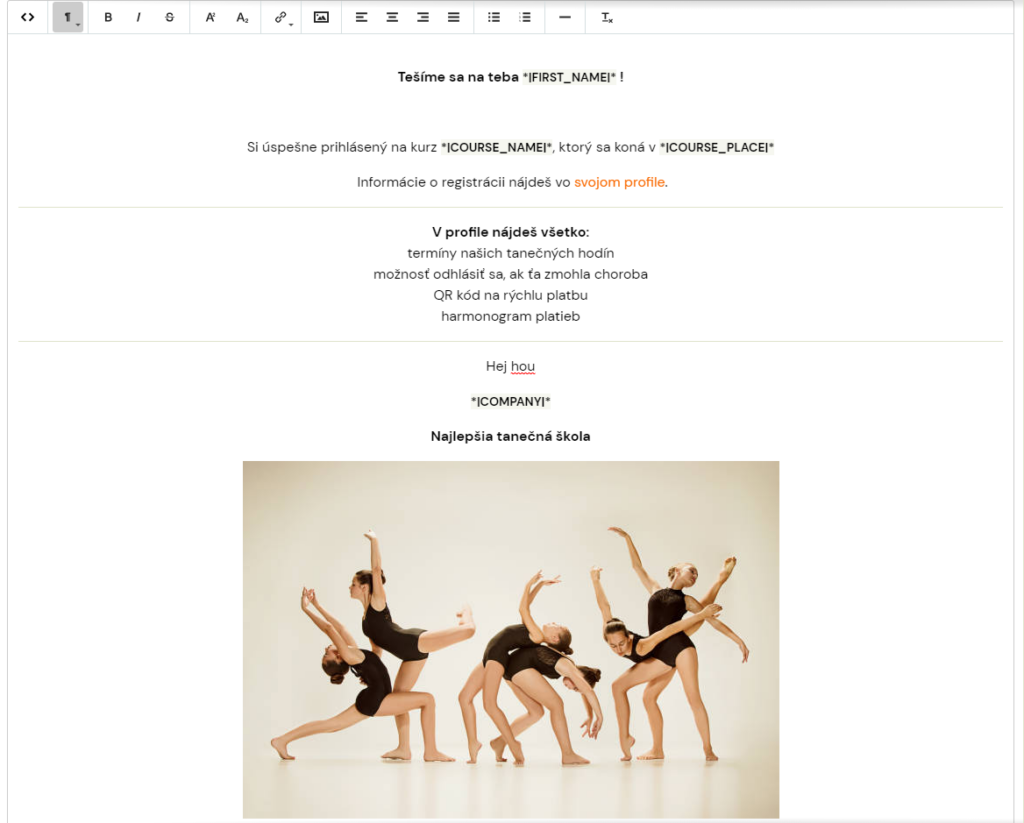 Automatic communication without the possibility of editing between message templates
Automatic communication without the possibility of editing between message templates For example, notifications on an outstanding payment, opting out of an appointment, choosing an alternative lesson or an evaluation.
Notifications on outstanding payments
These reminders may or may not be sent to clients automatically and you can set them at the course level under Price and Payment – and below Payment reminder settings Full instructions here.
You have the option to set whether and when to send them and whether to automatically delete outstanding registrations.
Such a payment reminder looks like this: